产品详情
---
Product details
HIGH CAPACITY: JINTION AA rechargeable batteries, NiMH AA 1500mAh, 4Pack. High and real mAh inside, compatible with high drain digital devices.
LONG CYCLES: Rechargeable AA batteries can be charge-discharge up to 1200 times. We add mix-protection additive to the cathode of batteries, protect the material from degradation in the progress of charge and discharge.
LOW SELF-DISCHARGE: This battery embedded seal structure expand the space of crystal lattice, make more room for hydrogen, so nimh aa batteries will holds 80% power after 3 years benefit from its concentration to low self-discharge project.
ECO FRIENDLY and SAFETY: Ni-MH batteries 1500mAh eco-friendly cell, doesn't contain Hg/Cd/Pb, makes no pollution to the environment. This AA 1500mAh cells using special steel shell which can protect the battery against explosion due to over pressure.
MUTIPLE USES: AA rechargeable batteries can be widely used for Remote controller, Solar garden lights, Cameras, Handle game pad, Alarm-clock, Toys, Key board, Mouse, Flashlights, PDAs, Toothbrushes, shavers and other high drain digital devices.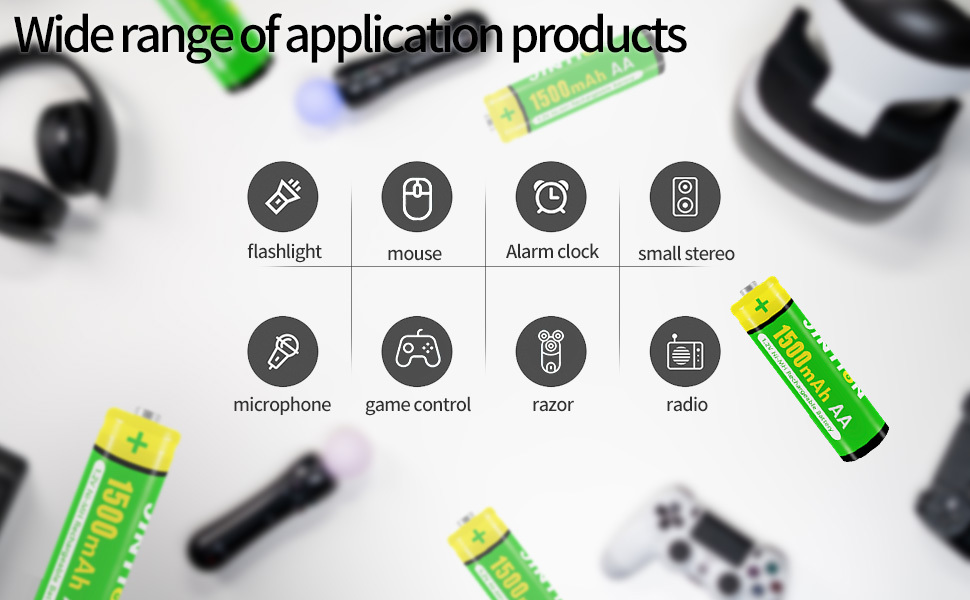 ● We've worked with Samsung, Siemens and Motorola for more than 10years.
● Various battery sizes: AAAA, AAA, AA,A, SC, C, D, M and F.
● OEM 2-way radio batteries awailable.
● 4 factories with 30,000㎡ total area.
● Received Gold Prize at the 2013 International Invention Fair in Paris.
For more information, contact us today.
2013 Paris International Fair - Gold NiMH battery.
2014 Nuremberg International Invention Exhibition Silver Award A high-temperature nickel-metal hydride battery manufacturing method.
2014 Golden Award for the 8th China International Invention Exhibition A method for manufacturing high-temperature nickel-metal hydride batteries.
The 4th Iran Azad International Invention Expo gold medal for the production process of Ni-MH battery.
2014 Thailand International Invention Exhibition Gold Award New NiMH battery